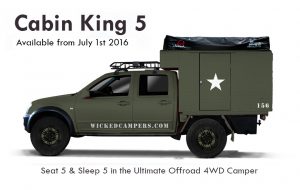 Available from June 1st 2016! The 4WD Cabin King 5-Sleeper is the ultimate Offroad 4WD Vehicle!
With a crazy cool rooftop tent (which opens & closes in minutes!) these 4WD hire vehicles are made for getting dirty! Modern, reliable and super-easy to drive, there's no better way to see the Aussie Outback, than in a Wicked 4WD Cabin-King 5-Sleeper Camper!
4WD Cabin King 5-Sleeper Included Extras
Modern 4WD's
Seats 5 / Sleeps 5
Great Rear Cabin with HEAPS of Storage
Manual Transmission (Some Auto available on request)
A/C and Power Steering
Easy Open & Close Rooftop Tent
Plates, Cups, Bowls & Utensils Included
Gas Cooker, Pots & Pans
70L Food & Beverage Storage Chiller
Rear Additional Battery
4WD Cabin King 5-Sleeper Optional Extras
Camp Stools & Table
Automatic Transmission Optional
Up to 4 Extra Drivers allowed!
GPS Available for Hire!
Campervan Hire at Wicked is a little different – we would hire unicorns but they're very expensive so we just hire vans and cars. They come with paintjobs and without paintjobs and they even come with plenty of nooks and crannies to hide drugs, illegal immigrants and hostage politicians. So hire a Wicked Campervan – they're shiny and shiny is good!