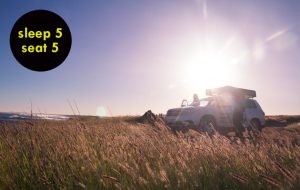 Get off the sealed roads and into the Outback baby with our sweet range of AWD and 4WD Hire vehicles!
With a crazy cool rooftop tent (which opens & closes in minutes!) these AWD hire vehicles are made for getting dirty! Modern, reliable and super-easy to driver, there's no better way to see the Aussie Outback, than in a Wicked AWD!
AWD Rooftop 5 Sleeper Tent Included Extras
Modern 4WD's
Seats 5 / Sleeps 5
Auto Transmission (Request)
Massive Rooftop Tent
Cooking Equipment
Gas Cooker
Chiller Box
Large Storage Area
AWD Rooftop 5 Sleeper Tent Optional Extras
Auto Guarantee (AWD 5)
Camp Stools & Table
GPS Hire
Campervan Hire and Minicamper rentals are available from our Melbourne, Perth, Sydney, Adelaide, Brisbane, Cairns, Airlie Beach, Hobart, Exmouth, Broome, Darwin and Alice Springs Depots. They're also in New Zealand, UK, Europe, USA, Canada, South Africa, Chile and Argentina. Yep – tits!
Campervan Hire at Wicked is a little different – we would hire unicorns but they're very expensive so we just hire vans and cars. They come with paintjobs and without paintjobs and they even come with plenty of nooks and crannies to hide drugs, illegal immigrants and hostage politicians. So hire a Wicked Campervan – they're shiny and shiny is good!